Reggae Fraternity UK's Christmas Networking Party
RFUK Xmas Networking Party
Get your tickets for Reggae Fraternity UK's  (RFUK) Christmas Networking Party taking place at the Market House on Sunday 16th December 2018.  You will get the chance to meet the RFUK team and other seasoned artists who have mastered their art and will be entertained by massive headline acts: Peter Hunningale, Michael Gordon Junior Giscombe, Wendy Walker, Chardel Rhoden and Chucky Bantan.  DJs P D Cooley and Lady TLC will also keep you rocking spinning the latest releases, classics and hit bound hot shot tunes.
This one's not to be missed so get in the Christmas spirit the right way, the best way, the RFUK way.
RFUK Star Pick – see flyer below* for details about RFUK Star Pick, which is an opportunity for an aspiring artist to perform at the Christmas Networking Party!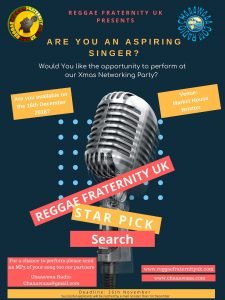 Star Pick, email: chaaawaaa@gmail.com. Get your tickets now. If you miss out, or are too skint, RFUK in association with BBM/BMC and IRD UK will be offering a pair of tickets as a competition prize soon.
Opportunity to perform at RFUK Xmas Networking Party. Deadline Monday Nov. 26


* Are you an aspiring singer?

* Would you like the opportunity to perform at the RFUK Xmas Networking Party?

* Can you be available on the 16th December 2018 at The Market House Brixton?

If you've answered yes to all of the above then what you waiting for, send an MP3 of your song to our partners Chaaawaaa Radio: chaaawaaa@gmail.com for a chance to perform on the night!

DEADLINE is the 26th November 2018

Successful applicants will be notified on the 1st December 2018

Good Luck !