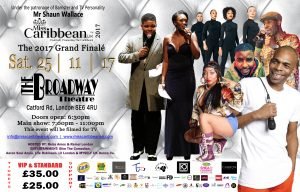 Miss Caribbean United Kingdom was set up as an event to promote the different Caribbean countries under one umbrella. The event uses a pageant to promote, educate, inspire and celebrate the historical and cultural impact of the Caribbean within the United Kingdom.
We want to be a vehicle, to assist in bringing the Caribbean and its diaspora within the UK, closer. We want the old and younger generation Caribbean descendants to recognise the influence and impact that the Caribbean Diaspora has had on UK culture and thus, appreciate the importance of retaining the link with their Caribbean heritage.
The organisation patron is:  Barrister and TV Personality Mr Shaun Wallace
2017 Grand Finale details are:
Date:  Saturday 25 November 2017
Doors  Open:  6.30.p.m
Start time:  7.00.p.m.
Venue:  The Broadway Theatre, Catford Road, London SE6 4RU
Black History Seasons we are delighted to have the opportunity to giveaway to the first person who can answer the following question correctly about Miss Caribbean UK .  2 Tickets for this fantastic event.
Here goes, our question for you.
Question:  Who is the Reigning Queen for 2016 and which Caribbean Island  does she represent?
You can find the answer by visiting:   https://www.misscaribbeanuk.com/ 
The first correct email response received by no later than Thursday 23 November 2017 by 5.00.pm GMT will receive:
Giveaway:   2 Tickets for Miss Caribbean UK
Hurry….the clock is ticking, and good luck
Email: ask@blackhistoryseasons.uk
Remember first come first serve… We will not be beating round the bush with this one.