TAKE ME BACK
A Gospel Musical, not to be missed….
www.stockwellph.com/upcoming-shows/2018/12/4/take-me-back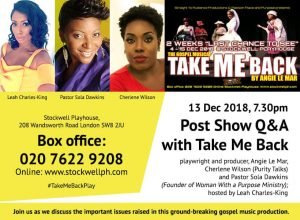 Must see… FINAL WEEK! 
Tickets still available for "Take Me Back" by the legend who is our very own (Angie Le Mar),
This Thursday (13 December 2018) is a bit extra special as there's a Q&A afterwards with Angie Le Mar.
Playwright and producer Angie Le Mar.
Presented by:  Straight to Audience Productions & Passion Place and Purpose